Krilja is a trio based in Gothenburg, Sweden, who play traditional Roma/Gypsy songs from Russia and Eastern Europe. The music is of uncertain date but in many cases from the 19th century and onwards and shifts between lyrical melancholy and fiery intensity. The lyrics of the songs are in Romanes and Russian, and tell of sorrow, pain, poverty and suffering, but also love and passion.

The arrangements have been improvised by the musicians, often influenced by styles such as flamenco, but they remain true to the traditional idiom.

The name "Krilja" means "wings" in some dialects of Romanes as well as in Russian.

History

Krilja was founded in the autumn of 2010. Marita Johansson (vocals, guitar, tambourine) and Jonas Liljeström (fiddle, vocals, percussion) were the original members, and Emil Pernblad (guitar) joined the group shortly thereafter. Since then the group has performed in various venues all over Sweden - from cafés and culture centers to arts museums, churches and folk music festivals. Krilja has also toured abroad; in Scotland in the spring of 2013 and in Iceland in the summer of 2017.

Krilja seek to bring forth an aspect of the Roma music tradition which is less well known than the Balkan/South-East European tradition which is represented by artists such as Taraf de Haïdouks and Goran Bregovic, and they do it in our own way. They don't try to imitate anyone else; they define our own sound, very much influenced by the various genres and traditions that the individual band members are fluent in outside of the Roma musical idiom - but always with affection and respect for the tradition which the music comes from.

Krilja's debut album received enthusiastic reviews and has been played on radio all over the world. The group's second album "Sosnitsa" (recorded at Studio Epidemin, Gothenburg, in the spring of 2023) will be relased in the autumn of 2023.

In addition to the usual concert format, Krilja has developed a combined lecture and concert with Romani music history as its theme. The lecture begins with an outline of Roma history, and then describes the characteristics of the Roma music traditions and the role of music in Roma culture. It then focuses on Roma music history in Russia up to modern times. The programme is divided in two parts; first a lecture (with music examples performed by Krilja), followed by a concert section. The total length is approximately 90 minutes. More info about the lecture concept can be found here.

The members

Vocalist and guitarist Marita Johansson - the group's initiator - is a driving force for Roma culture who has collected almost forgotten traditional Roma songs and adding them to her repertoire since the early 1990s. As a part of this process she has also learned several dialects of Romanes as well as Russian. Marita is versed in many other folk music styles, and sings songs from the Sephardic Jewish tradition, Hasidic religious songs and much more besides. Marita has also studied music at Gothenburg University.

When quite young, guitarist Emil Pernblad became fascinated with flamenco, and from the 1990s and onwards he periodically lived in Spain to study the music tradition. Today he is known as one of Scandinavia's foremost flamenco guitarists and he performs frequently in various constellations. Emil has composed music for theatre and television, and he also works as a guitar teacher.

Jonas Liljeström (fiddle and percussion) started playing the fiddle on a professional level in 1990. He is proficient in many different musical styles, including Nordic, British and Irish folk music, jazz, blues, bluegrass, klezmer and various kinds of East European folk music. He is also an ethnomusicologist, educated at Gothenburg University, Sweden.

Reviews for Krilja´s debut album:

"Splendid variety…full of intense passion and grand gestures, as befits this kind of music." (Norran, 10th September 2015)

"Krilja show great maturity in their interpretations which I feel springs from a thorough knowledge of the Russian-Romani musical tradition." (Rolf Nilsén, Lira Music Magazine 2015)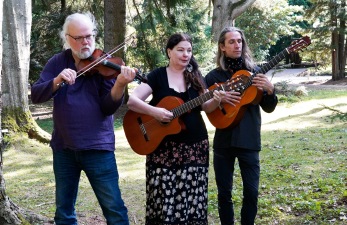 Krilja's second album "Sosnitsa: Roma Music from Russia & Eastern Europe" will be released on October 27 2023. More info about the album can be found here.
Krilja's debut album is now available in a remixed and remastered version. The trio's tribute to the Romani music tradition of Russia and Eastern Europe has never sounded better! The album can be streamed on Spotify here, on Apple Music here and it is also available as a playlist on Youtube Music here. You can also support us financially by purchasing a paid download of the full album from Bandcamp. A physical CD can be ordered at Bengans or directly from Liljans Musik.
Press photos can be downloaded below.