Salamander is a trio based in Gothenburg, Sweden, which plays music from various Jewish traditions. The repertory consists mainly of Sephardic songs from the Mediterranean region, religious songs from the tradition of the Hasidic Jews and a bit of klezmer. In exceptional cases, other kinds of folk music as well as early music make their way into the repertory, but the group's main focus is on Jewish traditional music.

The salamander, to whom the band owes its name, is considered a fire spirit in ancient and medieval symbologies and mystery traditions – one of the four elemental spirits. The Salamander is, among other things, the embodiment of courage and resourcefulness.

Some of Salamander's repertory consists of klezmer music, but the group's primary aim is to highlight music from Jewish traditions which are less familiar to the general public than the klezmer tradition. For example, the Sephardic song tradition of the Mediterranean region, which has its roots in the music tradition of the Jews of Medieval Spain - as well as Hasidic religious songs, whose lyrics are often in Hebrew and consist of Bible verses from the Book of Psalms sung with traditional melodies.

The religious element in Salamander's repertory mean that our music is not only suitable for concerts but also for religious music services.

In addition to the standard concert format, Salamander can also offer a combined lecture and concert about Jewish history, culture and music. More info about the lecture concept can be fond here.

History

Salamander was founded in the autumn of 2010. Marita Johansson (vocals and guitar) and Jonas Liljeström (fiddle, vocals and percussion) were the original members, and the melodeonist, mandolinist and vocalist David Odlöw joined the group in the summer of 2011. Since then, they have been developing their repertory and appearing in various venues all over Sweden, from intimate café settings to culture centres, museums and folk music festivals.

David Odlöw left the Salamander due to time constraints in 2017, and was replaced temporarily by Kristofer Yffén. As of January 2018, Emil Pernblad is a permanent member of the group.

In the spring of 2014 Salamander's debut album was released to critical acclaim in various Swedish media, and a new album entitled "Como La Rosa" was released in May 2018. "Como La Rosa" was financed in full by a grant from the Katz Jewish Culture Foundation; the album has received enthusiastic reviews in both Swedish and international music magazines, and it has been played on radio stations in the USA, Latin America, Spain, Greece, Australia and Germany, as well as in Scandinavia.

In the autumn of 2023 Salamander will release their third album entitled "Jojnes Trojm" (recorded in Studio Epidemin in Gothenburg in the spring of 2023). This album, too, has been financed by a grant from the Katz Jewish Culture Foundation.

The members

Marita Johansson (vocals, guitar and finger cymbals) is Salamander's founding member and initiator. She has been singing and collecting folk songs since the early 1990s, including Roma/Gypsy songs from Russia and Eastern Europe - which she performs with Jonas Liljeström and Emil Pernblad in Salamander's parallel group Krilja - as well as songs from the Jewish and Greek folk music traditions and much more besides. She has studied music and song privately and has also learned various languages in order to correctly interpret the lyrics of the songs in her repertory, including several dialects of Romanes as well as Russian. She has also studied musicology at Gothenburg University.

Jonas Liljeström (fiddle, vocals and frame drum) started playing the fiddle on a professional level in 1990. He has played in bands with widely different musical orientations over the years, and also participated in the organising of the annual Irish cultural festival "Gothenburg Irish Festival" in the late 1990s. He is proficient in many different musical styles, including Nordic, British and Irish folk music, jazz, blues, bluegrass, klezmer and various kinds of East European folk music. Jonas is also a PhD student of ethnomusicology at Gothenburg University. Jonas has partly Jewish ancestry and has had a strong interest in Jewish culture and history since childhood.

Emil Pernblad (Irish bouzouki) is known mostly as a flamenco guirarist, but in Salamander he plays exclusively Irish musicology, he has also delved into Celtic and Arabic traditional music as well as Latin American music and jazz during his long career. He has also recorded and produced Salamander's debut album as well as the group's second album "Como La Rosa" where he features as a guest musician on a few songs. Since the Spring of 2018, Emil is a permanent member of Salamander.

Reviews for Salamander:

"A feeling of magical intensity…A timeless record to take pleasure in for a thousand and one nights." (Bengt Edqvist, Lira Music Magazine)

"...A clear tone of authenticity. If somebody had recorded these songs three hundred years ago, , or when they were created, they would probably have been sung exactly like this." (Bengt Edqvist, Lira Music Magazine)

Feedback for Salamander:
"The groups Salamander and Krilja in combination played beautiful and well performed Romani and Jewish folk music during Victory and Peace Day celebration in Gothenburg Cathedral on the 8th of May 2018. The concert was highly appreciated by audience and staff alike, and I warmly recommend these groups to other concert organizers." / Cathedral Chaplain Jan-Olof Arkstedt Broberg, Gothenburg, Sweden, May 20 2018

"... We're very much satisfied with you - you were professional, flexible and skilled musicians. We can only hope that more people discover you. Not least for wedding gigs, many guests commented that they felt shivers of pleasure just about constantly while you were playing. It's almost a pity that the event is over and we won't have any further contact ..." / Daniel Wihlstrand, Gothenburg, Sweden, August 8 2018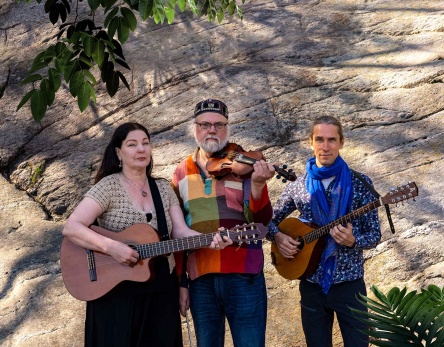 Salamander's third album "Jojnes Trojm: Music from Jewish Traditions & Beyond" will be released on October 19 2023. More info about the album here.
Press photos can be downloaded below.