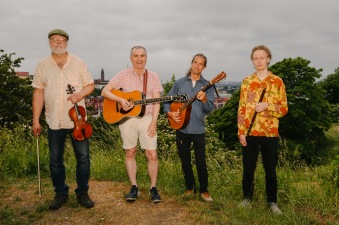 Celtic Connections is a folk/world music group based in Gothenburg, Sweden, which was founded in 1990. Their repertoire is rooted in folk music from the Celtic nations – Ireland, Scotland, Wales, Isle of Man, Cornwall, Brittany and Galicia – which they combine with many other styles and traditions including flamenco, jazz, African rhythms and Scandinavian folk music.

Under the leadership of the charismatic and visionary Irish vocalist and bodhrán player Jonathan McCullough (1961-1999), Celtic Connections came to enjoy great success. Among other achievements, the group performed at several of Scandinavia's leading music festivals at the time and also toured in Ireland two years in a row.

In 1995, Celtic Connections recorded a full length album entitled Spindrift. Shortly thereafter the group was dissolved due to time constraints, and the album project was shelved. Now, after more than twenty years, Spindrift has finally been released – this was celebrated with a highly successful concert in Gothenburg Cathedral on October 6 2018 which drew an audience of more than 250 people . This also marked the reunion of Celtic Connections! The album is available for purchase from Bengans webshop and can be ordered here (international orders available). It can also be streamed from Apple Music and Spotify, and can be downloaded from iTunes Store and various other digital music services.

A few video clips from concerts with Celtic Connections can be seen here. A demo recorded at a live concert in May 2019 can be found here.

Below, you'll find more information about Celtic Connections, a teaser from Spindrift, as well as Celtic Connections' first album – an eponymous EP released in 1993 – downloadable for free.

THE MEMBERS OF CELTIC CONNECTIONS ARE:
Jonas Liljeström: fiddle and vocals
Greg McDermott: piano, guitar and vocals
Kristin Lidell: trumpet, accordeon, percussion and backing vocals
Emil Pernblad: guitar and Irish bouzouki
Tore Levenstam: flutes and whistles
How did Celtic Connections begin?
How Spindrift was born, lost and recovered.