Slàinte play Irish, Scottish and American folk music, mixed in with country, blues and rock as well as their own original song compositions. The singer and guitarist in the band is the Scottish singer/songwriter Billy Jones. He has been living and working in Sweden since the since the early 1990's but already had a long career in Scotland behind him. The core group consists of Billy Jones and fiddle player Jonas Liljeström. Depending on the venue their duo line-up can and has been augmented with other musicians playing mandolin, banjo, accordion, drums and bass.

Slàinte have played literally thousands of gigs in Sweden, Denmark, Norway and Finland. On the way, they have established themselves as one of the most popular bands in The Dubliner and other establishments in Copenhagen, Gothenburg, Stockholm and Malmö. They have also done several highly successful shows at the Edinburgh International Festival Fringe. Billy has also released a considerable number of records (vinyl and cd) under his own name. This band is perfectly suited to shows in clubs, pubs, company parties and wedding and birthday parties as well as libraries, art centres and festival stages.

History

Slàinte is a Gaelic word meaning "health" or, more popularly, "cheers/skål". The group Slàinte began life in Sweden in the early 1990's as Billy and the Boys and the founder Billy Jones has worked since then in a changing constellation of excellent musicians. With himself and Jonas Liljeström on fiddle, the band is now basically a duo which can be augmented, depending on the venue, with banjo, guitar, mandolin, accordion, percussion and/or drums. Their latest in a series of records, "Roy on the Hill" features Billy's own songs with this line-up, as well as duo pieces. The musical style is based on Celtic and American folk, roots music - played with a rocky beat and always with feeling. They have performed three times, with great success, at the prestigious Edinburgh Festival.

The members

Guitarist, singer, songwriter Billy Jones began playing in rock/pop bands in the early 1960's. Born in Edinburgh, he grew up nearby in Bathgate, a small town in the Scottish Lowlands where as young teenager he worked with various school bands. At university and afterwards he continued playing rockabilly, rock'n'roll and blues - then, as his musical tastes widened, Celtic roots and American folk/country music. After years and thousands of gigs throughout Europe and the USA, several LP's, singles and cd's, he moved to Sweden. Resident there, he has established himself as a worker in song - recording original material and playing countless numbers of shows in Scandinavia and of course back home in Scotland.

Jonas Liljeström (fiddle) was born in Kungälv on the west coast of Sweden in 1973. He grew up in a music-loving family and learned to appreciate various folk music traditions at an early age, and in the early 90s he started playing the fiddle on a professional level. He is proficient in many different musical styles, including Nordic, Jewish, Romani, British and Irish folk music, jazz, blues, bluegrass, klezmer and various kinds of East European folk music.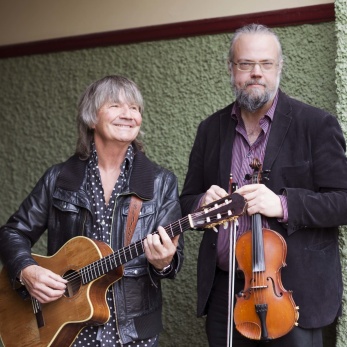 Press photos can be downloaded below.
Streaming concert! On August 23 2020 Sláinte gav a streaming concert organized by Soundino Music. It is archived in its entirety here. Enjoy!